Deprecated
: implode(): Passing glue string after array is deprecated. Swap the parameters in
/home/towar/public_html/perch/core/lib/PerchFactory.class.php
on line
1043
Deprecated
: implode(): Passing glue string after array is deprecated. Swap the parameters in
/home/towar/public_html/perch/core/lib/PerchFactory.class.php
on line
1076
Factors Affecting Install of Fire Rated Systems and Their Solutions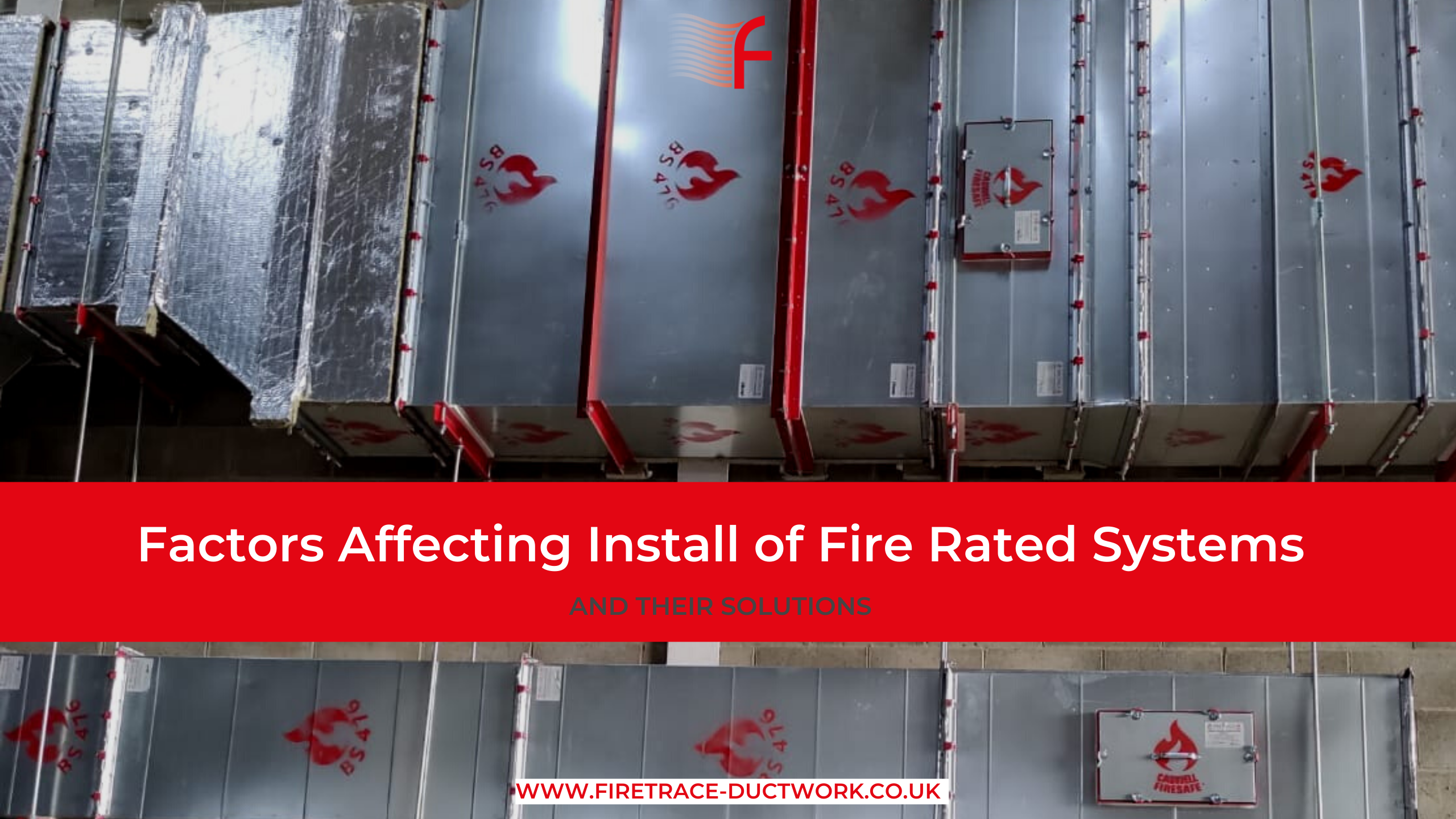 There are many factors that can affect the supply and install of a fire rated ductwork system, and being aware of these before commencing a project can reduce communication requirements, lead times and the possibility of errors that slow down or even temporarily halt project progress.
We've done all of the hard work for you and listed below some factors that affect the supply and install of fire-rated ductwork systems, as well as their solutions, so next time you take on a fire-rated project, you'll know exactly what to ask your supplier for.
Specification
The required specification of ductwork (and all other aspects of a construction project such as pipework, small power, lighting etc.) should be provided by the customer who in turn should be provided with it by their customer or the client or end user. This forms the basis of a pricing model and tells the manufacturer which materials and testing standards must be used throughout fabrication.
Ensuring the required specification is clear from the beginning will reduce the risk of unexpected costs as projects continue.
Insulation
When fire rated ductwork is required to be insulated with fire rated insulation, as opposed to thermal insulation, it throws up a host of challenges. First it causes co-ordination issues with other services as historically, there is never enough room to fit all that is required into the space provided. On most sites nowadays it's a first come first served scenario and generally the electrician is first in as nearly all of their material is standard section and is off the shelf, so from receipt of the drawing, its days to getting to site, rather than weeks. The same can also be said of the mechanical installation, as pipework is also off the shelf, but there is a relative delay whilst the design is ratified and valves etc are ordered.
Ductwork, especially fire rated, takes time to measure, draw make and get to site, by which time the space is half used up. This is where the insulation causes issues as it has to be maintained throughout the install and the specified depth needs to be upheld.
Secondly, It is also extremely heavy as its so dense. This too causes issues due to man-handling and can be a two man job, if the duct is of a large section. The larger you go, the greater the need to attach welded pins to hold the slabs onto the duct, so access to each face of the duct is a definite and necessary requirement.
Lastly this product is very expensive. The requirement for fire rated insulation should be looked at holistically, as it is there to prevent radiant heat affecting other services, combustible materials and affecting any means of escape or escape corridor. Insulation values not only help the escape of building occupants but also the ingress of the emergency services who are acting on time critical issues.
Being aware of these issues can help site managers to ensure there is sufficient space for insulated installs, and yet again, there will be no unexpected costs arising upon the addition of insulation; this should be considered at an early stage in the project planning.
System Type
Fire rated ductwork can be as simple as a duct breaching an escape corridor compartment wall to a fully blown smoke or kitchen extract system from level B3 of a basement to roof level, passing through many floors. Some are simple and can be installed as quickly as standard duct, relatively speaking, whereas installing a complete system, can be complicated, as there are many more areas of the install that need to be addressed.
Each type is as important as the other, but complete systems can involve multiple compartment wall penetrations, access doors at regular intervals, risers, individually designed supports and complex sign off procedures. Add in to that an insulation requirement and that further exacerbates the issue.
When it comes to keeping on top of theses issues, planning is key. Ensuring installers are appropriately equipped for the job at hand, as well as any unexpected circumstances will help to keep things running smoothly. A plan of action should be clearly communicated to all parties within the project as early and as often as possible to ensure minimal complications, as well as fast response to any unexpected issues, as these are always a risk.
At Firetrace Ductwork Ltd, we work with our customers to ensure quality and compliance within their fire-rated system, advising of any potential manufacture issues, riser support calculations and insulation allowances. We also help to ensure compliant installation with our on-site installation induction and certification upon completion.
To find out more about how we can help with an upcoming project, contact our team today at enquiries@firetrace-ductwork.co.uk or call 01323 400680.