Deprecated
: implode(): Passing glue string after array is deprecated. Swap the parameters in
/home/towar/public_html/perch/core/lib/PerchFactory.class.php
on line
1043
Deprecated
: implode(): Passing glue string after array is deprecated. Swap the parameters in
/home/towar/public_html/perch/core/lib/PerchFactory.class.php
on line
1076
Ongoing Professional Development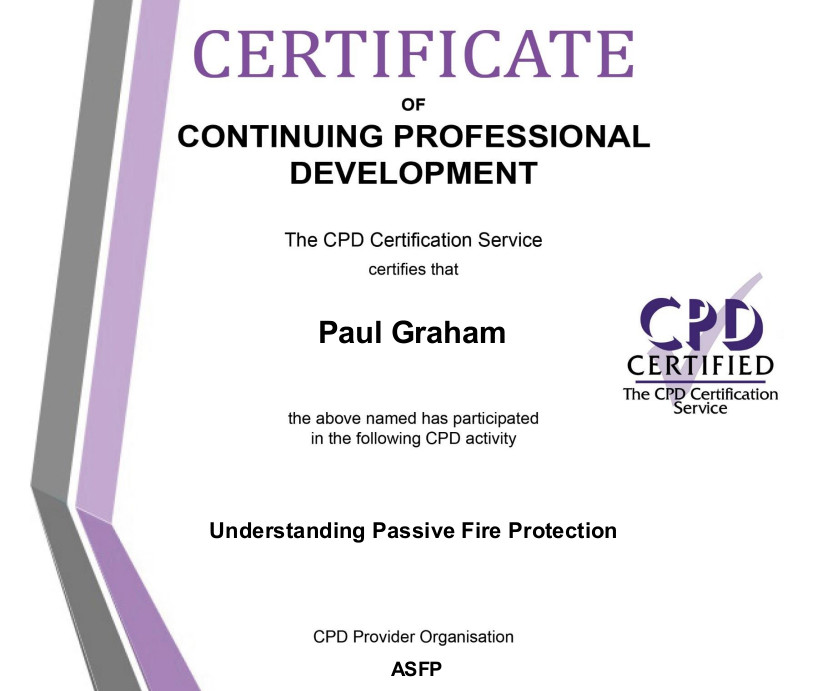 Here at Firetrace we recognise the importance of investing in people. All staff are encouraged and helped to develop professionally. With this in mind we are very happy to share the news that our site inspector, Paul Graham, has successfully completed CPD certification in Understanding Passive Fire Protection.
The training was provided by ASFP the trade association representing manufacturers, contractors, test houses and consultants in the passive fire protection industry.
When you need fire rated ductwork you can be confident that we take every aspect seriously, from providing a handy app for accurate ordering, through manufacturing to the highest standards in our ISO9001 accredited factory, to delivery throughout the UK (here's a helpful guide to where we deliver), and to onsite inspection by dedicated and qualified inspectors we're with you every step of the way.
If it has to be fire rated it has to be Firetrace.